---
News
Lily Collins chính thức trở thành gương mặt đại diện của Cartier
Tinh thần tự do, tràn đầy năng lượng và sự chân thành. Không ai có thể thể hiện tốt hơn cả tính sáng tạo đột phá của BST Clash [Un]Limited và phong cách tân cổ điển của Pháp của chiếc túi Double C de Cartier ngoài người bạn lâu năm của nhà kim hoàn: Nữ diễn viên Lily Collins.
Nói nhiều hơn về nữ diễn viên nổi tiếng này. Vào năm 2016, cô nhận được vai diễn trong bộ phim RULES DON'T APPLICY của Warren Beatty, và nhờ đó cô được đề cử Quả cầu vàng đầu tiên ở hạng mục Nữ diễn viên chính xuất sắc nhất phim điện ảnh. Kể từ đó, sự linh hoạt và khả năng thích ứng trong diễn xuất của Lily Collins đã cho phép cô đảm nhận nhiều vai diễn khác nhau, đáng chú ý là trong các bộ phim của Netflix như OKJA và TO THE BONE.
Cú bùng nổ lớn nhất đưa tên tuổi của Lily Collins đến với công chúng toàn cầu chính là màn trình diễn xuất sắc của cô trong EMILY IN PARIS, bộ phim đã mang về cho cô một Quả cầu vàng ở lần đề cử thứ hai. Loạt phim này, mà Collins cũng đóng vai trò là nhà sản xuất, hiện đã được đề cử cho Giải Emmy, lễ trao giải sẽ diễn ra vào ngày 19 tháng 9 tới đây tại Los Angeles.
Ngoài việc được công chúng quốc tế công nhận với tư cách là một nữ diễn viên và nhà sản xuất, Lily Collins còn tích cực tham gia với các tổ chức phi lợi nhuận, chẳng hạn như Chiến dịch GO, gây quỹ để giúp đỡ trẻ mồ côi và trẻ em khuyết tật cả ở Hoa Kỳ và trên toàn thế giới.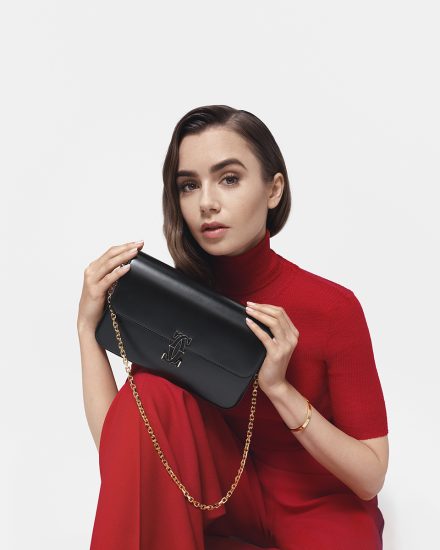 Khi chính thức trở thành gương mặt đại diện của nhà kim hoàn lừng danh nước Pháp cho dòng sản phẩm đặc biệt lần này, Lily Collins chia sẻ rằng: "Đối với tôi, trở thành một phần của gia đình Cartier có nghĩa là tham gia một cộng đồng gồm những người luôn mang một vẻ đẹp độc nhất, và không ngần ngại thể hiện cá tính mạnh mẽ của mình. Cartier là Paris, đó là biểu tượng về sự thanh lịch đậm chất Pháp, ở đó, trang sức Clash [Un]Limited tô đậm vẻ tinh tế và túi Double C thể hiện nét cổ điển xa hoa."
Ở phía Cartier, ngài Arnaud Carrez – Giám đốc Truyền thông và Marketing toàn cầu nhận định rằng: "Lily Collins là sự lựa chọn phù hợp nhất để thể hiện tính đa dạng trong BST Clash [Un]Limited. Lily Collins là hiện thân của một thế hệ nghệ sĩ mới dám làm, dám  bộc lộ những mặt khác nhau trong phong cách và cá tính, đôi khi cổ điển và thanh lịch, đôi khi sáng tạo, đôi khi thậm chí xa hoa. Tóm lại, cô là đại diện cho những người không giới hạn bản thân, như chính tinh thần mà BST này truyền tải."
---